Contemporary Design, Vintage Inspiration, Traditional Technique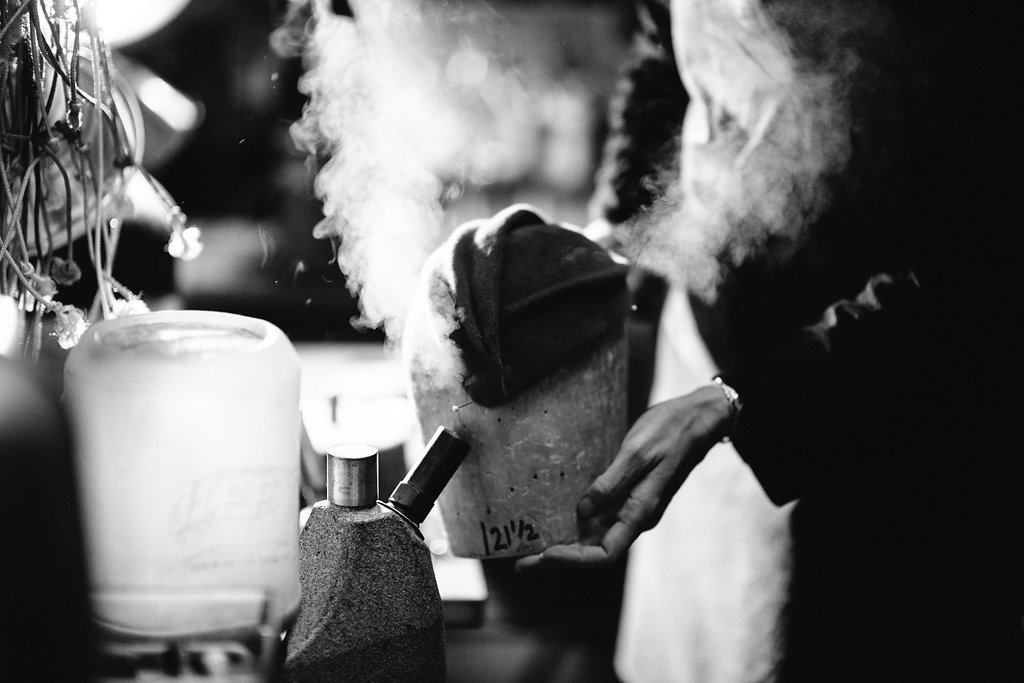 A Milliner's Tale
Julia Emily Knox is a English Milliner, trained in New York, who heads up a small team of milliners at East Village Hats, where they hand craft the hats on the premises, using traditional tools, methods and materials. Julia was trained as a milliner at FIT and joined Barbara Feinman Millinery in 2012, taking over the business when it moved to it's current location in 2016.
Style & Quality
In the store workshop, surrounded by an incredible selection of felts, straws and trims, the work is done on a sewing machine which dates back to the industrial revolution. The block collection, on which the hats are molded, has been built over a period of 25 years since Julia's predecessor, Barbara Feinman, first started her career as a milliner, and includes blocks from more than a century ago, as well as from every decade since. Julia has continued to grow the selection, adding blocks of her own design.
"Sometimes a lady is in need of a hat.




And this classic millinery shop located in the heart of the East Village is my go to spot when I in fact do need a hat!…

I always feel like I've stepped into a different century when I go to visit. And I feel like more than a lady when I place her unique master pieces on my little head." Kate P, Yelp review
100% Handmade
Styles are available off-the rack and custom-made. Years of experience make the team experts at finding the perfect hat for each and every person who walks through the door.
Their clientele has always been made up of those who value quality and craftsmanship. Drawn by a reputation which has spread by word of mouth, their customer comes seeking unique, authentic pieces to elevate their wardrobe to the next level. A high value is placed on functionality and versatility, each hat designed to be an expression of who its wearer is, or aspires to be.
Introducing emerging designers
In addition to the hats made on site, the selection is completed with work by emerging designers: Maor Zabar, Stephanie Spencer Millinery, Jaycow, Marine & Deerfield, Two Foxes, Tierre Taylor, Firsthand by Denise Arellano and Laura Catignani Millinery. Complementing the hats, you'll find vintage hat pins and glamorous travel cases.
Locally Owned and Run
Established in 1998, Barbara Feinman Millinery became East Village Hats in 2016. Barbara Feinman's designs are still made on the premises and you can occasionally find her there, trimming her signature styles and teaching workshops. East Village Hats, with her successor, Julia Knox, at the helm, is carrying on a valued tradition of local independent business in a world where this is ever more rare.
Sharing skills and experience
East Village Hats offers workshops aimed at sharing hat making skills with the community. The classes are taught for all levels, absolute beginners can take introduction courses while more experienced craftsmen and milliners will find all kinds of skill building workshops by a variety of teachers. You can find the selection of classes here and dates on our calendar page.
Restoration, reblocking and retrimming
East Village Hats also offers reblocking of vintage hats and old favorites as well as restoration and retrimming. Bring your hats in for a quote. Stretching and reshaping can usually be done while you wait.